It's undeniable that there were spectacular looks at the recent Couture Fashion Week - Iris Van Herpen continued to innovate with her incredible sculptural collection, Gaulthier supplied the drama with his spectacular Indian bride and her four hidden children whereas Maison Martin Margiela showed a promising collection that was bursting with potential. However, none of these shows compare to the spectacle of Thierry Mugler in his heyday. Clocking in at 45 minutes, the shows are pure delight to watch from start to finish.
Devon Aoki for Thierry Mugler Haute Couture A/W 1998
Nadja Auermann for Thierry Mugler Haute Couture A/W 1995
Far from a traditional show, Mugler was renowned for his unusual choice of models. Legendary supermodels such as Alek Wek, Devon Aoki, Naomi Campbell and Kate Moss have all walked for Mugler, but the casting ranged from female bodybuilders to middle-aged women to slim, highly androgynous men. He often put the spotlight on little-known Scandinavian model Nadja Auermann, choosing her to model some of his most iconic looks (for example the incredible closing gown for his S/S 1997 look).
Thierry Mugler Haute Couture; Finale, S/S 1997
The renowned "Robot" suit
As for the clothes, Mugler's aesthetic was a distinct mix of old-school glamour, sharp tailoring and futuristic designs. He was responsible for creating the renowned "Robot" suit, and his archive pieces are still frequently worn by icons such as Lady Gaga and Beyoncé, proving that his avant-garde aesthetic remains as relevant today as it was in his heyday.
Naomi Campbell for Thierry Mugler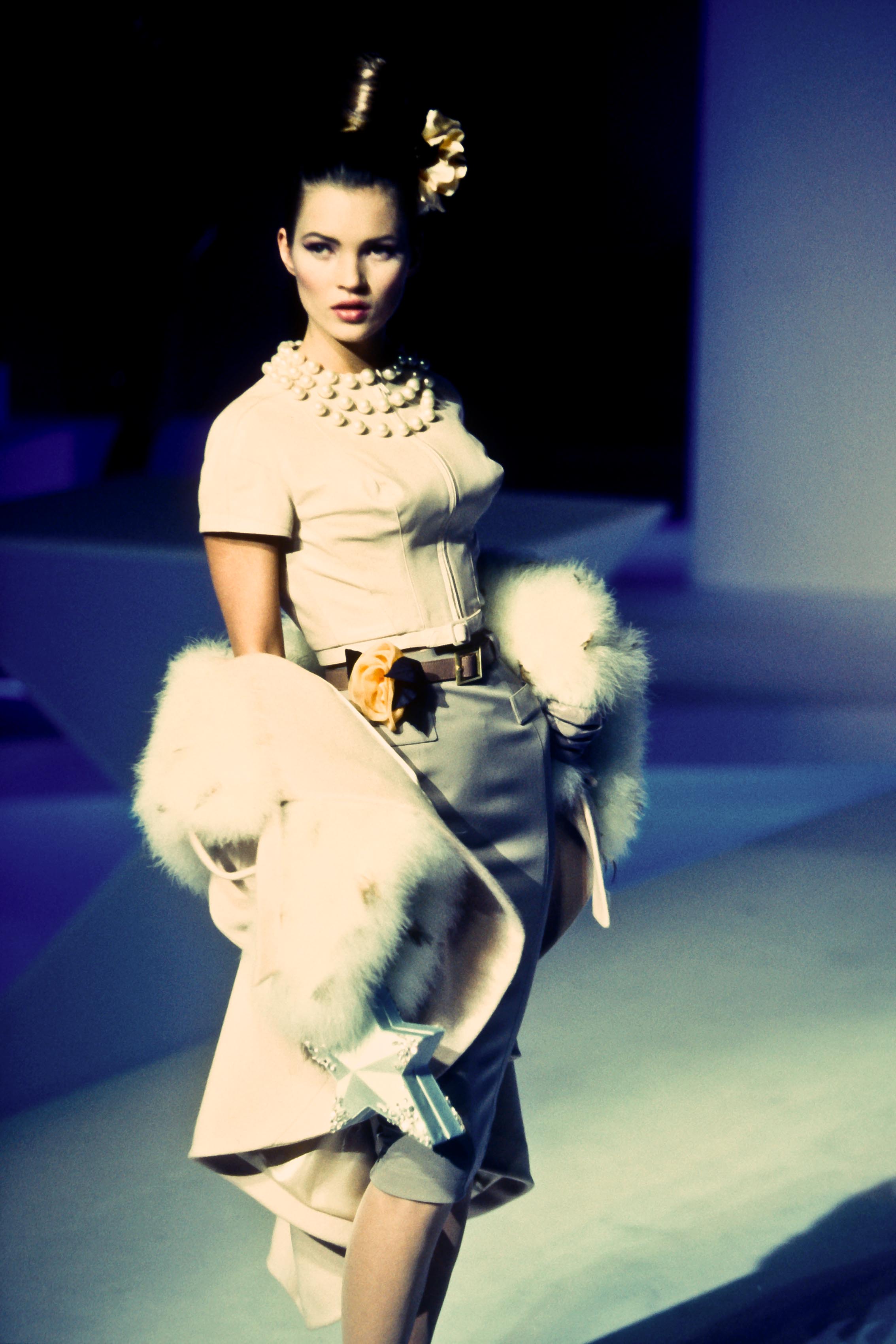 Kate Moss for Thierry Mugler Haute Couture A/W 1995
Finally, the main reason that I love his shows so much are that they represent everything that couture should be about - the clothes were ridiculously over-the-top, the models deliberatly exaggerated everything from their signature wiggle to their nonchalant poses and the entire production reeked of decadence.In an increasingly capitalist economy, the world of couture is becoming more functional in order to cater to a new generation of buyers that are looking for more wearable looks. Slowly but surely, the spectacle is being sucked out of the couture world and high-scale productions are being replaced by static collections and minimalist designs. People always ask why I prefer the old generation of couturiers - after watching this video, I fail to see how today's model of couture is the one that appeals most.