It's a known fact that celebrities are essential in the world of fashion for the survival of upcoming designers. The celebrity calendar features an abundance of events - the Oscars, the Grammys, the CFDA awards - which call for a show-stopping gown. The red carpet is the one place that can make or break a designer, and it is well-known amongst the fashion industry that one signature dress featured on a famous face can catapult a designer from relative obscurity to worldwide fame.
The latest landmark event took place last week, May 16th. The Cannes Film Festival is an event which serves to premiere the hottest new films, although attracting headlines for different reasons. Every year, swarms of paparazzi flock to the South of France to photograph beautiful actresses in beautiful dresses, and for the fashion elite every angle of every photograph is crucial. One of the most talked about dresses this year was worn by Eva Longoria, and will undoubtedly boost the already remarkable profile of its designers, New York design duo Marchesa.
The dress that stole the limelight - Eva Longoria in Marchesa Spring/Summer '12

If we look at the design duo's Spring/Summer '12 collecton, the designers show that they know their way around an evening gown. The collection is a mix of elegant neutrals, embroidered bodices with feathered trains, striking the balance between elegant and dramatic. The collection works so well because it works with contrast - a simply cut tassle dress is one of the highlights of the collection, for example. Some gowns also nod towards the classic 50s silhouette with figure-hugging pencil dresses in shades of dusty pink, whereas other gowns resembled 60s prom dresses recreated in dip dyed tulle and oversized bows. The models all walked the runway with minimal make-up, their hair swept into a simple middle-parting, emphasising the designers' confidence that the gowns themselves have the ability to do all the talking.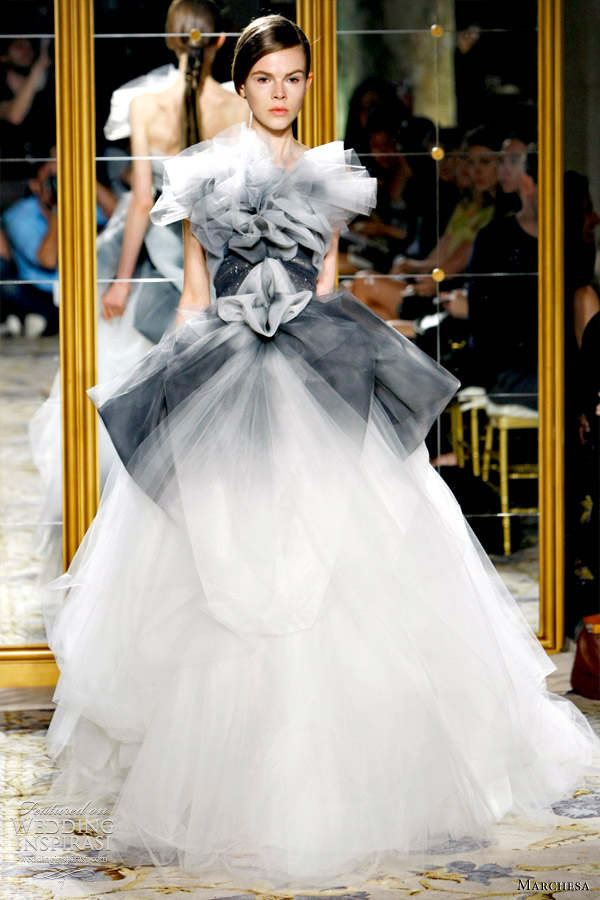 Marchesa Spring/Summer '12
Marchesa Spring/Summer '12
To conclude, it is evident that in today's climate the celebrity is an extremely powerful marketing tool for any fashion designer. If we look at the resurgence of interest in Versace afer Lady Gaga made a point of wearing only items from Donatella's archive, or the rise of Roland Mouret's Galaxy dress after it was spotted on Victoria Beckham, it is impossible to deny that celebrities and fashion continue to be the perfect match. Marchesa are now one of the most talked about design duos in the fashion landscape, meaning that their star will continue to rise. For the rest of us, the perfect Marchesa dress is only one successful film (or £10,000 of debt) away.