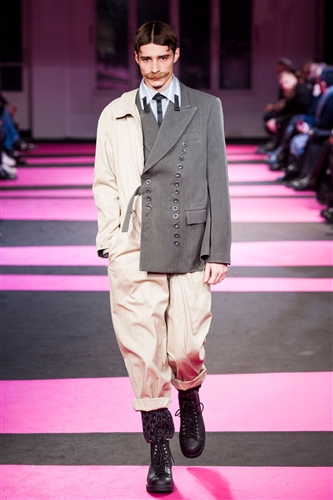 Better than anyone, Japanese designer Yohji Yamamoto realises that fusing inspiration from different countries and being culturally aware is key to moving forward in the world of fashion. Thanks to the likes of Japanese pioneers Rei Kawabuko and the masters behind the new Kenzo collection, this season has seen eastern meet western in a new way and Yamamoto is one of the key players to spearhead the oriental movement.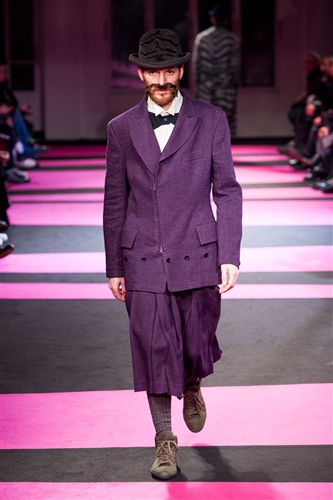 Sending down an array of models (both male and female) sporting oversized moustaches typical of the eccentric English gentleman, Yamamoto took a playful stance on the stereotype. As is to be expected, the collection featured British staples such as the peacoat and tartan and juxtaposed them with the loose silhouettes and flowing fabrics that can only be associated with Japanese fashion. In this collection, texture was also incredibly important – stiff suit jackets were paired with shaggy fur coats, whereas lightweight jersey was paired with heavy cable-knit in order to create a unique contrast.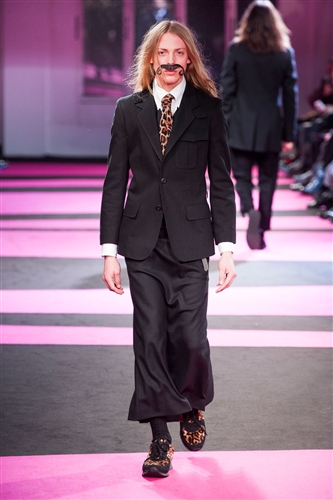 Androgyny was another element explored in this collection; some of the garments looked suspiciously like skirts, whereas moustached women wore heavy suit jackets, helping to break the gender conventions established by society and blur the lines of masculinity. Finally, every collection needs a statement piece, and this collection boasted several - from the futuristic reptile-print harem trousers to the full-length shredded coats, every look was well-though-out and drenched in creativity. It may be true that fashion is slowly being won over by the East but with talent like Yohji Yamamoto, it's easy to see why.