Part of me feels like I should apologise (this is, after all, my second McQueen post in the past four days), but I recently got McQueen's Savage Beauty book and feel like, only being 20, I only really got into fashion a few years ago and there are so many incredible collections that this book has made me aware of. As with all the best McQueen collections Dante contains a strong concept, historicism, several references to religious iconography and, of course, beautiful clothes. Based on the conflict between Heaven and Hell, the collection represents the divine contrast by using white lace,intricate florals and lilac silk to juxtapose black leather and bleached denim. Although the two ideas are usually presented as separate looks, one of the highlights of the show saw a delicate lace top which extended to completely cover the models face, half of which was gripped by a skeletal claw, adding the classic McQueen reference to the grotesque. As the show progressed McQueen's representations of the dark side continued to become more and more literal until one model walked the runway covered head-to-toe in a black lace veil which, when strewn over a pair of reindeer antlers, created a striking portrayal of the animalistic nature of "Dante".
Lace corset used in Dante, shown at the Savage Beauty exhibition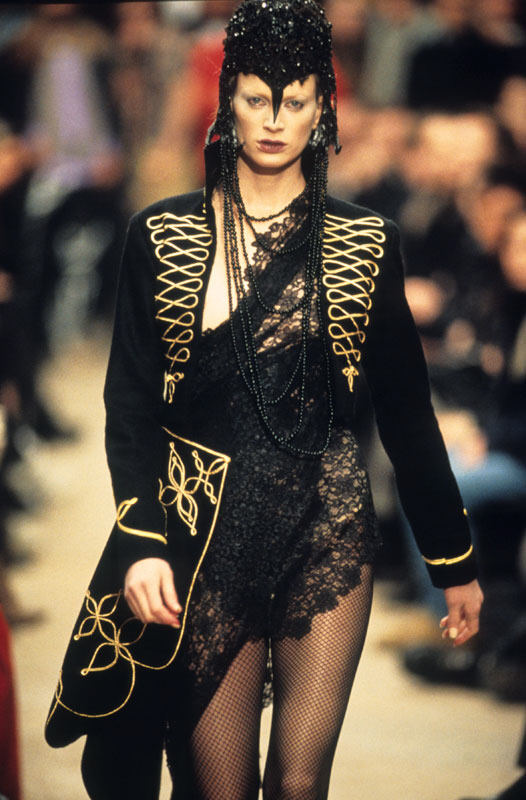 Another key element of McQueen's shows is theatricality - for example, male models stalked the runway in half-unbuttoned black shirts whilst the female models sneered at the members of the audience and groped themselves provocatively. In addition, the show's soundtrack ranged from the atmospheric chimes of a church organ to classic hip-hop and heavy metal, a soundtrack which summarises the broad spectrum of looks shown. Perhaps what is so fantastic about McQueen is that his collections could so easily be seen as erratic - there are elements of both androgyny and sadomasochism in this collection, and looks ranged from patchwork denim "bumsters" to intricate lace corsets, yet the consistency in hair and make-up and the clarity of his vision manages to tie together a collection that incorporates so many different ideas. As always, McQueen delivered.