'POP ART'. The term has been used so often that people are no longer quite sure what it was ever originally supposed to be – is it a movement, is it a concept, is it a hybrid or is it just a neologism? I myself used to be sceptical of the term, my knowledge of the movement extending only to the Campbells soup cans of Andy Warhol and the cartoon prints of Roy Lichtenstein, an American artist whose fabulous exhibition at the Centre Georges Pompidou truly ignited my interest earlier today.
Lichtenstein Poster
The exhibition was a walk-through of Lichtenstein's fascinating career – his flirtations with cubism, his years of 'image duplication', his use of abstract materials and even his comic-strip commentaries on wartime America. However, despite all of this, the beginning of his career was the era which caught my eye the most; the time period in which he was intrigued by the brutally direct slogans and ubiquitous imagery of the advertising industry. Everyday items such as coffee cups and hot dogs became staples of American culture through advertising, therefore becoming (due to America's worldwide dominance) representations of 'pop culture'. Lichtenstein created sculptures and paintings of these everyday objects in three primary colours – pillarbox red, lemon yellow and marine blue (and, on occasion, green). The striking impact of the graphic paintings was made to imitate the eye-catching statements of American advertisement, a commentary on the way that advertisers would shove the ideal of 'the American dream' in the face of their prospective consumers.
Lichtenstein - 'A Cup of Coffee'
Another element was to broaden the art world, moving it away from 'niche' territory and showing artists that 'pop' wasn't a dirty word. In this era (1950s & 1960s), the art world was seen as being exclusive and, therefore, elitist – a stereotype that Lichtenstein, Warhol and other prominent Pop artists sought to dispel. The purest representation of this ideology was presented in the form of 'The American Supermarket' exhibition – a real supermarket stocked with fake foodstuffs such as chrome cabbages and wax tomatoes. The supermarket also sold $2 tote bags screened with images of Warhol's soup cans as well as Lichtenstein's turkey, essentially making art accessible to all. What interest me the most is that art welcomed pop in this way, but the favour was never really returned – while many of recognise the Mona Lisa when we see it or perhaps have bought the occasional £7.99 Salvador Dali calendar, there have been very few examples of high-art that are pivotal to pop culture.. until recently.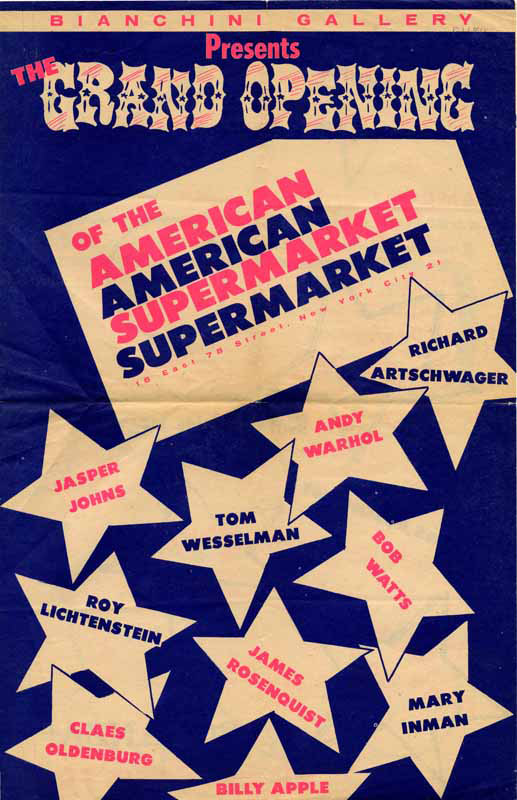 'the American Supermarket'
Throughout the past few catwalk seasons, references to artists (both well-known and not-so-well known) seem to be a more frequent occurrence. The first (and most relevant to this article) example would be of Miuccia Prada's S/S 2014 extravaganza, the set itself commissioned and designed by four upcoming street muralists. Then there was the collection itself – replicas of the female heads on the murals were superimposed onto most pieces, and the graphic primary colours of the fur coats were more than a little reminiscent of Lichtenstein himself. Then there was Raf Simons' decision to raid the archives and illustrate his classic gowns with motifs from Warhol's illustration days; an embroidered tulip here, a dainty painted stiletto there.
Prada S/S 2014
Maison Martin Margiela as a house is also a pioneer of the 'art' movement within fashion, to the extent that their couture line is simply named 'Artisanal'. Fabricated entirely from found objects or swatches and pieces from past collections, the idea is to create new pieces from recycled materials. However, due to unconventional materials (some which, for example, are impossible to sew), the house tend to either use embellishment techniques or they look towards a fabrication method more often used to create sculptures, rendering the clothing almost an artwork in their own right. This leads me to the final piece of evidence in the fight to introduce art into pop culture – Lady Gaga. A pop cultural force with enough Twitter followers to create and inhabit their own private country, Gaga's latest opus 'ARTPOP' is attempting to introduce cult artists such as Jeff Koons and Marina Abramovic by referencing them in her lyrics, collaborating with them on projects and staging her album launch party in the form of the 'artRAVE' – a night which will essentially act as an exhibition with her music as a backdrop.



Maison Martin Margiela Artisanal
Although art has infiltrated pop culture in the past, the references now seem to be more varied and the interest more genuine. Figures such as Miuccia Prada and Lady Gaga are a huge part of 'pop culture' today, meaning that their endorsements give art a bigger chance than ever to become mainstream. Whether or not this is a good thing is debatable; many see it is a representation that art is losing its exclusivity (not my argument – surely art is just another area of education, and accessible education can never be a bad thing?) whereas others have branded Koons and, in particular, Abramovic as 'sell-outs' for working with Gaga. These feeble arguments highlight the unfortunate 'elitist' nature that does still plague art – just because I have been exposed to Lichtenstein, Koons, Abramovic and Warhol, it doesn't make me want to become an artist, it's just another area of culture which helps broaden knowledge of reference points and art movements. But as to whether or not art and pop culture can co-exist, the answer will unravel as Gaga's new album (the cover a hybrid of Botticelli's Venus and a Koons sculpture of Gaga herself) takes over the shelves of supermarkets and record stores worldwide, recreating the 'American Supermarket' experience of finding respected artists available to purchase.
'ARTPOP'