It's no real secret that the fashion and music industries are, now more than over, heavily dependent on one other. Take the recent slew of bi-annual Fashion Weeks and look at their headlines; Katy Perry pissed everyone off by being drastically late to Jeremy Scott's Moschino debut, Rihanna divided her time between a trolley dash in the aisles of the Chanel supermarket and countless Instagram snaps with Olivier Rousteing and, finally, Versace's couture collection gained more column inches from Lady Gaga's appearance than any of the looks shown on the runway. The love between Gaga and Donatella is clearly mutual; ever since Donatella loaned out archive pieces from Gianni's vaults to accompany Lady Gaga's '"Edge of Glory" music video, the friendship has resulted in the popstar fronting Versace's latest campaign as well as devoting a song on her 'ARTPOP' album to Donatella's unattainable wealth, sass and general brilliance. It seems natural that Gaga's recently-released G.U.Y video seems, via the use of a floor-length platinum wig, a visual extension of the advertisement campaign and more like a fashion film than any traditional music video. The Lady is known for her outfits; here are five of the best.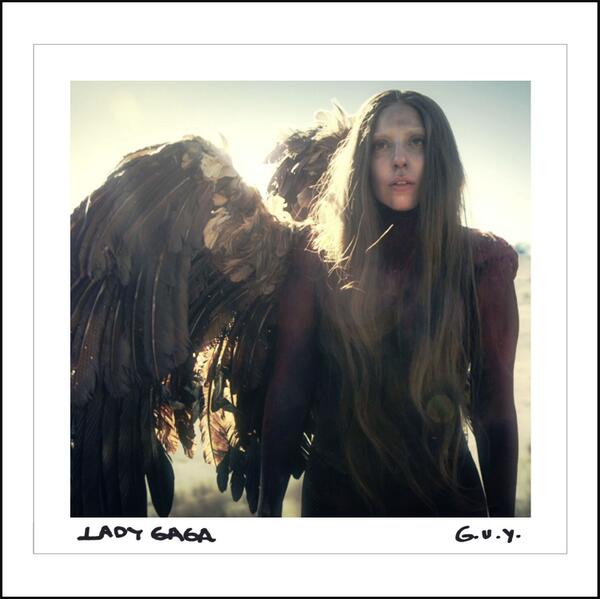 It's worth noting here the backstory behind the video in order to explain this extravagant first outfit (pictured here in a screencap chosen for the single cover). The action begins when Gaga, corporate megastar, crashes down to Earth and is subsequently mauled and left for dead by hundreds of 'suits' - aka, the record label that built her up to be destroyed ('the decay' etc). The singer has recently spoken out about the lack of creative freedom allotted to any 'commercial' artist and, long story short, Gaga (for reasons unknown) split with her manager around the same time that her latest album failed to set the charts alight in the same way that its predecessors managed. This is represented sartorially by an incredible pair of broken wings and an arrow lodged in the spine of our fallen heroine - both pieces were designed by Gaga's 'Haus' and appear to represent a phoenix rising from the ashes.
The second stand-out look of the video comes after the inhabitants of Hearst Castle (a symbolic reference to being revitalised by creativity - aka the Haus of Gaga) baptise our heroine in the castle's pool with a floor-length wreath of flowers . Gaga rises from the pool and warmly greets the Teletubby-like Greek god (Himeros? Zeus? Who knows!) in the sky in this stunning white lace one-piece bodysuit complete with feather headdress. Designed by Jean Paul Gaultier, the juxtaposition between the innocence of the white lace and the drama of the headpiece set the tone for the overall aesthetic of the video.
Despite an extremely brief inclusion in the video, this look pretty much had to make the list for its sheer weirdness. Although the majority of the looks in the video consist of sexy LaPerla swimsuits, this Panda-like creation perfectly encapsulates the kooky core that make Gaga more high-fashion than any of her contemporaries. Nobody is quite sure what symbolic role this couture Bea Szenfeld plays in the storyline, all we know is that it's batshit and brilliant. It's also, incredibly, made of paper, so hopefully they kept her away from the pool.
4. DONATELLA!
OK, so this swimsuit isn't actually Versace - instead, the gold latex one-piece with cut-out detailling is actually a piece designed by latex connoisseur Atsuko Kudo However, there are just three words to describe this scene; opulent as fuck. The wall tiling is more than a little reminiscent of Versace's decadent vintage prints, and the blue and gold colour palette features almost identically in Versace's various homeware ranges (yes, they really are a thing). Incidentally, the only time Gags actually wears Versace in this video is in a dance scene shot in a strobe-lit room, in which Gaga wears nothing but Versace jeans and a long weave whilst writhing around with a host of really fit topless men. If you can't see how these elements scream Donatella (bearing in mind her last menswear was based around gay cowboys in arseless chaps), then, well, you're wrong.
. 5. The 'Bad Bitch' Blackbird
Finally, the video climaxes with a fully-revitalised Gaga stepping out with a machine gun loaded with money to avenge her corporate nemeses. Accompanied by, bizarrely, two Real Housewives of Beverley Hills and an army of G.U.Ys cloned from a DNA hybrid of Michael Jackson, Jesus and Gandhi, this scene is sartorially depicted with a fierce full-length yeti coat by Helen Yarmak. The matching headpiece is a reference to the phoenix we saw at the start of the story, and the incredible crow/blackbird outfit seems also to reference the work of Gaga's late designer friend Alexander McQueen, renowned for his fascination with crows (see the black feather pieces in his 'Horn of Plenty' collection.) It's also arguably one of the singer's best ever sartorial moments - it's dramatic, it's undeniably chic and, when teamed with the platinum wig, it's glamorous enough to fit the sexed-up aesthetic of the overall video.
The video climaxes with a triumphant dance scene in a plastic skirt and crop-top combo, before Gaga mounts her hunky black plaything and strikes a ridiculously GIF-able pose that seems to usher in a playful, more carefree part of the ARTPOP era, free of dramatic monologues and performance art. The fact that just last week the singer was causing havoc by allowing a scantily-clad woman to vomit in her waist-length dreadlocks just shows that, thankfully, she's exactly the kind of chameleon needed to reinvigorate the worlds of both fashion and music.