If there was one word that gained traction more than any other this year, it was 'feminism'. Whether we credit Beyonce, Emma Watson or mere social unrest, the discussion of women's rights has become ubiquitous, sparking debates on everything from breastfeeding and abortion to slut-shaming and dyed pubes. If we follow this train of thought, it seems natural that fashion would come into the equation somewhere, raising the question; where does fashion really stand on feminism?
Without doubt the most publicised example of fashion's response to this question came courtesy of notorious provocateur Karl Lagerfeld, a man known as much for his designs as he is for clumsily calling Adele fat. His latest Chanel show ended with a protest; a gang of models stormed 'Boulevard Chanel' brandishing placards emblazoned with "Women's rights are more than alright!" and "History is Her Story" - a 'feminist' statement which simultaneously excited the fashion crowd (style.com REALLY loved it) and infuriated the media in general. Journalists began trawling through interview archives and gleefully pulling clumsy quotes from Lagerfeld himself which indicate that he is definitely not 'feminist' in the traditional sense. He argues that sweatpants are a sign of defeat and that fat women should be, unequivocally, banned from the runway - hardly an activist for female body confidence. Articles argued that Lagerfeld 'appropriated' feminism and that his hypocritical stance was indicative of the fashion industry as a whole, all of which is valid criticism. However, if we also consider that Chanel's previous collection was staged in a makeshift supermarket and ended with editors wrestling for selfies with Chanel-branded sweetcorn (another clumsy commentary - this time on capitalism), it seems fair to argue that we should perhaps accept Karl's stance on anything as tongue-in-cheek.
There is also the argument that fashion itself favours the image of a perfect woman that subsequently causes other women to feel inferior. The debates surrounding the size of runway models and the slew of unwearable trends we see on the catwalk present a convincing argument that the fashion industry is more interested in commerce than it is in appealing to any 'real' women out there. This remains the most convincing argument that fashion is anti-feminist - although efforts have been made in the past by designers such as Mark Fast and Rick Owens to feature a variety of women on the runway, the general consensus remains that catwalk models are thin because they are required to be thin. Despite some progress (the emergence of plus-size model Ashley Graham, or the inclusion of a 'plus-size' model in this year's Pirelli calendar), it appears that the age-old stereotype of the starving model is here to stay, or at least for the time being.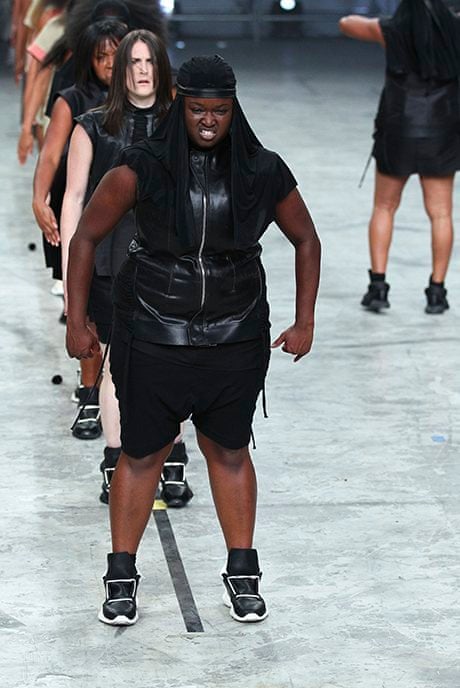 However, this isn't sufficient ammunition to claim that the fashion industry as a whole is anti-feminist; a statement which has been relied upon far too heavily in recent seasons. To argue this point is to overlook radical designers such as Rei Kawakubo, who deliberately set out to free women from the constraints of clothing in the 1980s by cutting her clothes to allow space between the garment and the wearer. Yohji Yamamoto took a similar approach and the two designers created something of an avant-garde movement which allowed women to dress to impress without resorting to vertiginous heels or a plunging neckline. Miuccia Prada has also maintained her diplomatic stance on feminism, recently creating a collection based entirely around the concept of girl gangs and female solidarity. The Spring / Summer 2014 collection was a celebration of modern femininity, featuring female faces emblazoned on dresses whilst the walls were adorned with murals of females painted by some of art's most influential newcomers. Even Prada's most recent collection was filled to the brim with references to the 70s, feminism's most influential decade. Women walked the runway with distinctly unsexy pullovers and ribbed cardigans which were strangely beautiful when teamed with embellished pencil skirts; a new, subversive take on what it means to be 'sexy' in the modern age. By taking established dress codes and subverting them, fashion breaks the mould and frees women to wear whatever they like; women can be as experimental as they please, can cover up as much as they please and can, ultimately, dress to please themselves as opposed to conforming.
The thing about fashion is that no matter how much we may argue that the women on the runway aren't representative of real women (some even argue that they're being exploited - underage models in particular), the fact remains that the runway isn't the only representation of the industry as a whole. Alt-fashion bible i-D, for example, just published an issue dedicated to strange beauty whose cover featured Winnie Harlow, a young model with vitiligo that has captured the industry with her perfectly symmetrical pigmentation. The whole concept of fashion is that it liberates women by providing them with a choice and the chance to create a sartorial identity that makes them more than just a wife, more than just a mother. If you ever need proof that fashion is feminist at heart just remember that, if it wasn't for Coco fighting for women to wear trousers, or for Yves Saint Laurent championing androgyny, women would still be stuck wearing the oppressive uniforms they loathed so dearly in the early 1900s. Fashion may be many things; it may be a shallow industry and it may be an oppressive industry, but it's certainly one of the most powerful weapons that modern feminism has in its artillery.