The final highlight of Paris' spectacular Menswear Fashion Week has to be, in my opinion, Acne for their fantastic collection which demonstrates that men can wear leather too - and not just on jackets. Although a lesser-known label (this is only the fourth Acne menswear collection ever), Acne have proven with this stellar collection that womenswear trends can convert perfectly into menswear without compromising any detail in design.
Given that the label originally specialised in denim only it comes as little surprise that the collection opened with a series of double-denim looks; baggy denim skate shorts were combined with collarless denim jackets in the same indigo wash. Although double-denim in the same shade shouldn't work, the details prevented the separates looking ridiculous when combined; a long t-shirt in a lighter navy broke up the look nicely, whereas the frayed neckline of the classic denim jacket gave it a much-needed edge.
Proof that double-denim can work; Acne S/S '13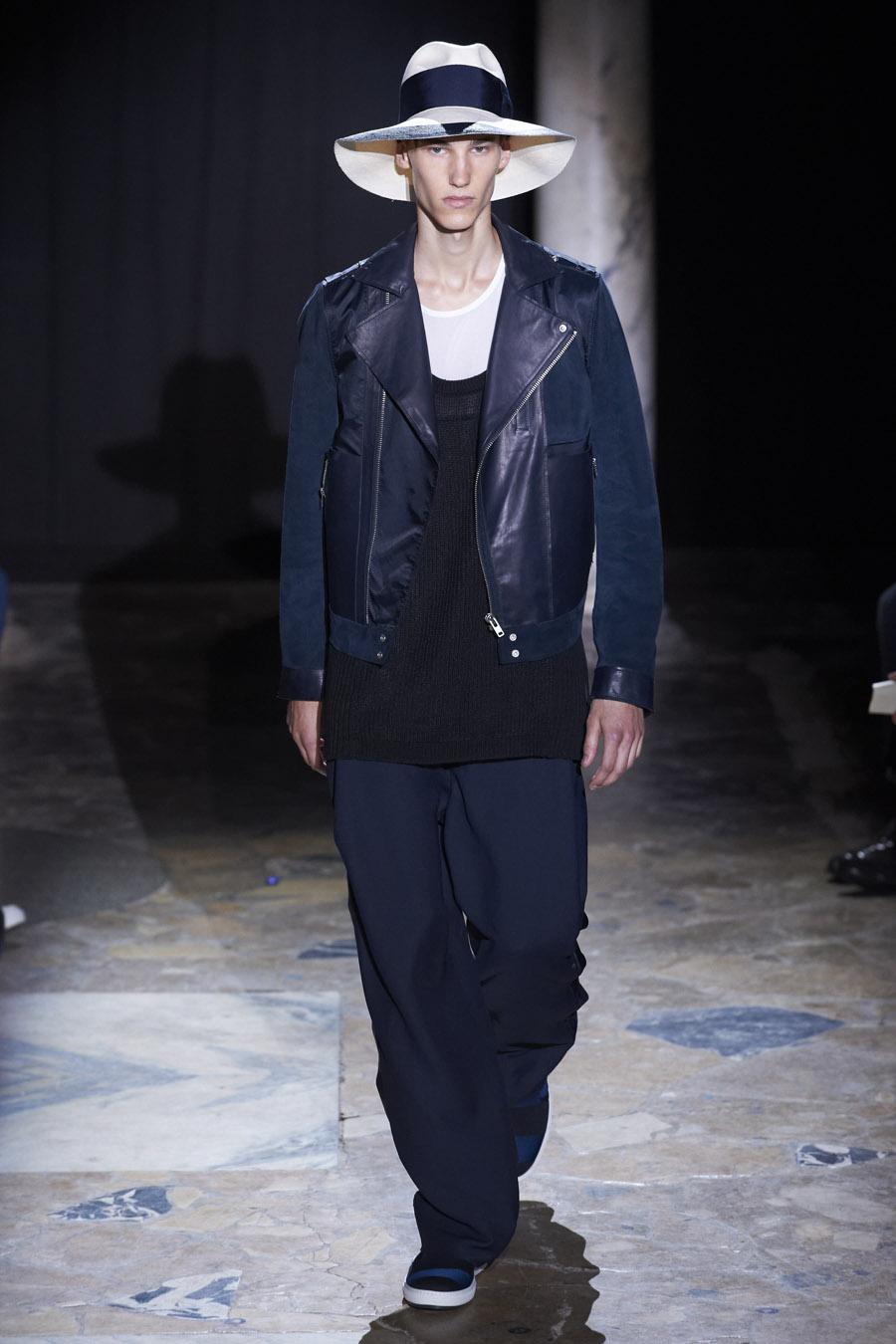 Acne S/S '13
Read/see more after the jump!
It was in the latter half of the collection that we saw creative director Jonny Johansson really explore new territory with the garments. Bold-striped pyjama shirts with contrast collars looked surprisingly fresh when teamed with matching shorts; in a variety of colours, they were the first hint of the jailhouse look that would dominate the remainder of the collection. Oversized horizontally-striped vests were teamed with matching trousers to form an outfit that, although daring, looked new and innovative.
The block stripes and exaggerated silhouettes provided the blueprint for the majority of the collection - one particularly eye-catching piece was a navy and black striped leather vest with a contrasting white collar, dressed down with baggy shorts and metallic silver brogues, a clear indication that, although the pieces may seem daring when combined, it's possible to take the separates and work them into a daily wardrobe. It's for this reason that Acne is my fifth and final highlight of Paris Menswear Fashion Week!
Acne S/S '13
Leather separates; not as scary as they sound! Acne S/S '13
Acne S/S '13