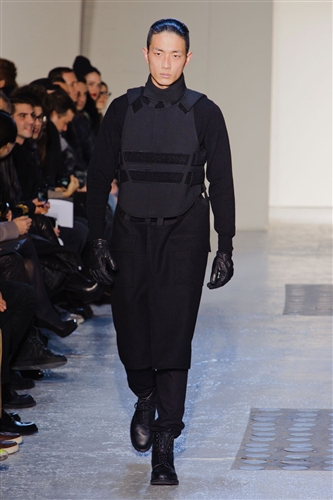 Ever since the appointment of Nicola Formicetti as creative director, the MUGLER brand has continued to grow in prominence and popularity. Consistently ahead of the curve and pushing fashion in new directions, this latest season has not failed to disappoint – influences range from Star Trek to Miami Vice (in the form of a fuchsia 70's power suit), culminating in a collection that is as retro as it is futuristic.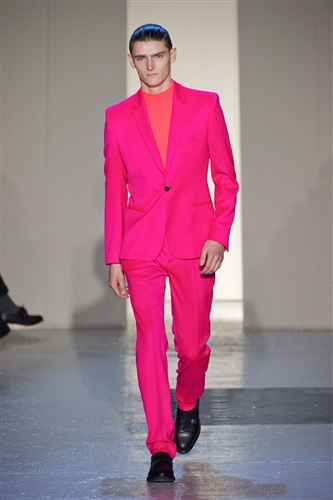 The collection is brighter than we have come to expect – bright cobalt blue and futuristic silver jumpers with contrasting green trim nod to a more playful aesthetic as opposed to the gothic look favoured in the past. Waistlines of trousers are higher than ever and teamed with skin-tight turtlenecks to create a variation of outfits more than vaguely reminiscent of Dr Spock.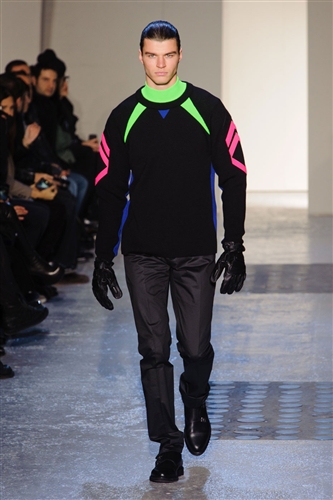 Colours aren't the only area in which contrast was used; slim-fitting trousers are teamed with oversized jackets to create an imbalanced silhouette that is highly appealing, whereas Formicetti showed that he hadn't abandoned the old influences completely, once again being one of the only menswear designers to dare to use latex (to fantastic effect).