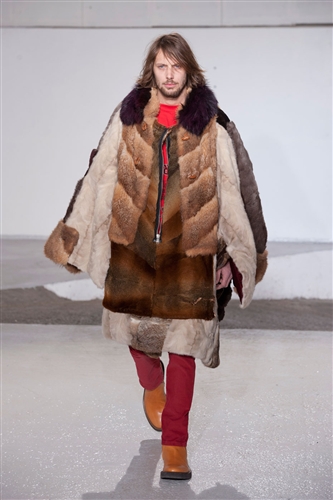 Following the recent inauguration of Antwerp graduate Martin Margiela into the revered couture club, the enigmatic designer is continuing his run of incredible collections with the Fall 2013 Menswear line. Beginning with a range of stylish separates and climaxing in a dramatic leather cape, the range showed continuity and established the role of the Maison as a force to be reckoned with in the menswear field.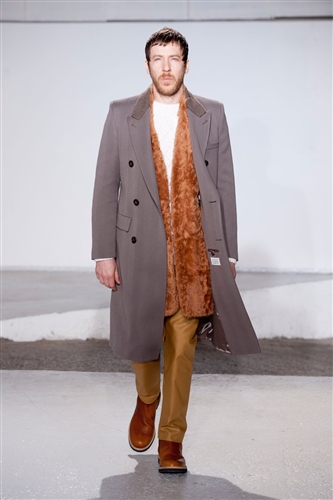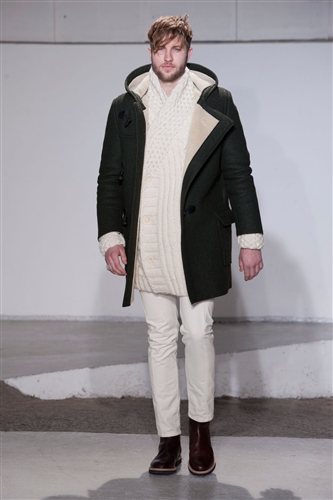 The aesthetic of the collection was mainly minimalist, although shaggy colourful scarves and interesting silhouettes injected a playful attitude into the highly wearable outfits. Margiela has also always been renowned for his unusual choice of casting, often choosing to street-cast his models, and this collection was no different. Choosing a variety of models of different size and age made it clear that this was designed to be a functional collection, one that could be worn by any man with style.
With regards to highlights of the collection, the final two looks were without a doubt my favourite (and possibly my favourite of the entire season!) – both looks centred around a deconstructed leather cape, the penultimate look being a more streamlined, wearable version, the finale being a hugely overblown, dramatic affair. If this collection demonstrates anything, it is that Margiela understands the balance of functionality and drama; he also understands how to combine the two in order to appeal to the modern man.