The landscape of high fashion has always been one littered with controversy. Complaints of low self-esteem, eating disorders and sexualisation are rife, yet the latest issue to become an epidemic is the age-old issue of racism. Recently, high-profile fashionistas such as Joan Smalls (currently ranked the #1 model in the world), Naomi Campbell & Andre Leon-Talley have all spoken openly on their battles in the media, and yet the whole thing made me wonder if I was slightly naïve.
Let me explain, first by acknowledging that I have a slightly obsessive personality which puts me firmly in the camp of people that proclaim to have 'favourite models'. For me, this illustrious list contains just five characters and they are: (in no particular order!) Devon Aoki, Kristen McMenamy, Naomi Campbell, Debra Shaw and Nadja Auermann. Of these five women, two are Caucasian, one is Asian and two are black which, to me, seems like a fairly diverse mix. When we couple this with the fact that, as previously mentioned, the #1 model in the world right now is of Puerto-Rican heritage, there doesn't seem to be much of a problem.
World leader - Joan Smalls for Givenchy
So, intrigued by the accusations of under-representation, I began to research further and found that there is indeed a problem – one that, as usual, appears to be rumbling behind-the-scenes as opposed to in the public eye. Models spoke frequently of shows using one 'token black girl' and designers claiming that African skin didn't match their 'aesthetic'; an excuse which has also reared its head in the notorious size debate. Adding fuel to the fire, legendary models Iman and Naomi Campbell also compiled a list of designers that they deem to be part of the problem including New York powerhouse Calvin Klein alongside perhaps the most recognised house of all-time, Chanel.
For once, the problem isn't just focused on the models either which implicates that the problem runs deeper than outdated notions of 'beauty'. Speaking candidly in a rare interview, Vogue icon Andre Leon Talley described how he was often stereotyped as a black man working in high fashion, as well as explaining the 'silent racism' that is still prevalent in the industry. However, the most interesting part of the interview came when Talley directly addressed the list of 'racist' designers targeted by Campbell & Iman, of which several were friends of the man himself. Speaking of the designers mentioned, he argued that they were 'not racists' claiming that 'it is the system that is racist; it is a system of intolerance'. In general terms, black models are seen as less profitable and less accepted than their Caucasian counterparts.
RuPaul for MAC, 'Viva Glam'
The beauty world is another which often comes under fire, mainly in the sense that beauty empires tend to have limited knowledge of any skin tone other than white. Skincare is a problem too, although Joan Smalls recently cracked the glass ceiling by becoming the first black model to front a campaign for Estée Lauder. World-famous drag queen RuPaul also recently became one of the faces of MAC which seems to indicate progress being made but, as usual, these key examples stand out only because they are so rare. A friend of mine challenged to me to name ten black models and, admittedly, it is still incredibly difficult. The case seems to be that when non-white models become successful they become extremely successful – recent examples include Chanel Iman and Jourdan Dunn as well as Asian models Fei Fei Sun and Xiao Wen Ju. Malaika Firth is also a rising star, having recently appeared in Prada's A/W 2013 campaign.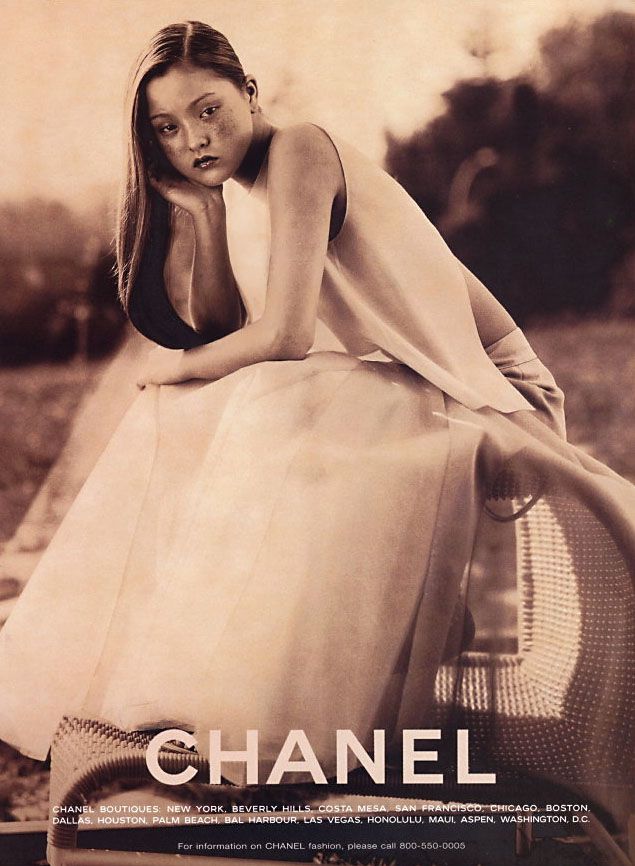 Devon Aoki for Chanel
So, what is the real reason behind this underlying racism? I am firmly in the camp that believes that if the fashion world is racist it is for reasons of ignorance as opposed to deliberate discrimination, but action still needs to be taken to broaden the definition of beauty. Black models, for better or for worse, are instantly more recognisable and distinctive within the industry but this often leads to designers claiming that they only need one or two in order to represent a minority and appease the masses. The problem appears to be that there still appears to be segregation between 'ethnic beauty' and 'conventional beauty' which indicates that the two camps are still divided, a view which needs to be changed. By creating the 'diversity coalition', Naomi Campbell & Iman are attempting to tackle the problem – whether or not they can alter the perceptions of an entire industry remains to be seen.